Zoho Mail
---
Zoho Mail does not support POP — e-mail clients must be configured to receive and send using the IMAP protocol.
IMAP is the standard that almost everyone uses and recommends.
The below Zoho Mail e-mail client configuration details are compatible with Windows Mail, Apple Mail, Airmail, and every other e-mail client out there.
Platforms supported: Windows, Windows Mobile, Android, macOS, iOS.
To save yourself some time, and to become more organized, the Zoho Desktop client is recommended.
---
User Name:  Enter your Zoho Mail address.
Email Address: Enter Your Zoho Mail address.
Password: Enter your Zoho account password.
Incoming Server Settings: 
Incoming Server Name: imappro.zoho.com

if imappro.zoho.com does not work, use smtppro.zoho.eu instead.


Port: 993
Require SSL: Yes
Username: you@yourdomain.com 
Outgoing Server Settings: 
Outgoing Server Name: smtp.zoho.com
Port: 465 with SSL or
Port: 587 with TLS
Require Authentication: Yes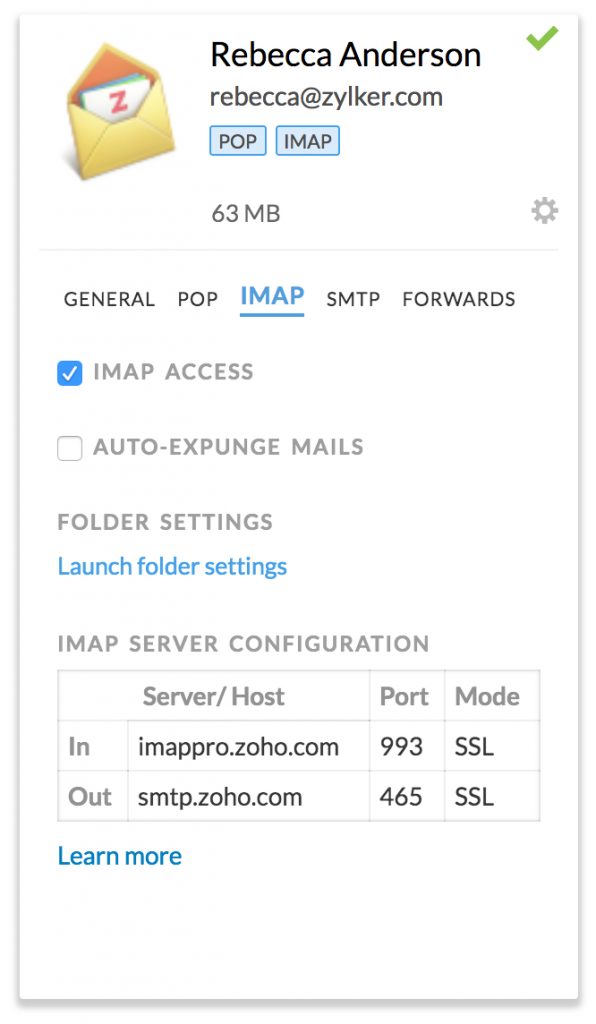 ---